Guernsey long-haul flights to 'get more expensive'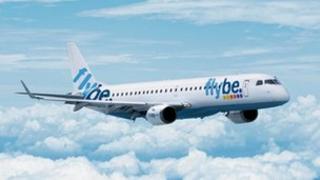 Long haul flights from Guernsey will get more expensive in future, according to a local travel expert.
Vaughan Davies says Flybe's decision to pull out of Gatwick airport would lead to more expensive connecting flights.
Flybe will stop running flights between Guernsey and Gatwick from the end of March next year.
Mr Davies said Flybe had links with other airlines allowing them to offer connecting flights allowing passengers to avoid UK airport tax.
He said: "They work with up to 20 interline partners and from Guernsey we get through fares all the way through to the final destination.
"This means you are on one through ticket, you pick up the international baggage allowance and your baggage is checked through from Guernsey.
"Because you are on a through ticket and in transit you don't pay the departure tax from the UK. What is concerning is that Aurigny don't speak to any onward carriers within their reservation system."
He said there were still other options with Flybe operating to other UK airports like Birmingham and Blue Islands to Amsterdam and Paris.
Guernsey airport says it is too early to say whether another airline would take over the route. Currently States owned Aurigny and Flybe are the only airlines flying to Gatwick from Guernsey.
The Treasury and Resources Department is the sole shareholder in Aurigny and said it is considering leasing or buying larger aircraft outright to support the route.
No-one was available for comment from Aurigny.