Guernsey bus operator 'needs to do better'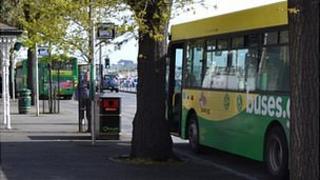 Cancellations to Guernsey's public bus services this week have been blamed on staff shortages by the operator.
CT Plus has announced the dropping of a number of daily services until Friday.
Frank Villeneuve-Smith, communications director, said the cancellations were due to illness and staff turnover.
Mr Villeneuve-Smith said: "The Environment Department have made it very clear to us that we must do better and that's something as an organisation we're very focussed on."
The company took over running Guernsey's bus service in April 2012 after agreeing a two-year contract with the States.
A timetable change last month has led to a number of complaints about the service.
This week routes 11, 21, 41, 42 and 81 will all run reduced services during the day, with full details on the Guernsey bus service website.
Mr Villeneuve-Smith said they had made as few changes as possible to services in the busy periods, which coincide with when offices and schools open and close.
He apologised on behalf of the company for any inconvenience caused.