Guernsey bus operator to tackle complaints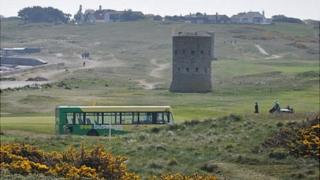 Staff from Guernsey's bus operator have flown into the island to deal with the high number of complaints about the summer bus timetable.
CT Plus and the Environment Department agreed a complete revamp of services from 13 May.
Since then there have been a number of complaints about delays, cancelled routes and lack of signage.
Environment Minister Roger Domaille said his department would work with CT Plus to ensure services improved.
A two-year contract for the running of the bus services, which started on 1 April, was agreed by the department and CT Plus earlier this year.
'Vicious circle'
Deputy Domaille said: "There have been reports of numerous dropped services, an inability to deal with the level of inquiries and complaints.
"This generates a vicious circle of increased annoyance, despair from the users, more complaints, increased pressure on staff and a seemingly worsening service."
He said the cause was "lack of resources, primarily drivers."
He added: "They tell us they should of had 56 drivers, currently they have about 42. They've lost some drivers through illness, they've lost some drivers to personal problems, but that is their problem and they should have a float of spare drivers."
CT Plus has not been able to provide anyone for comment.