Isle of Sark Shipping makes loss of £343,500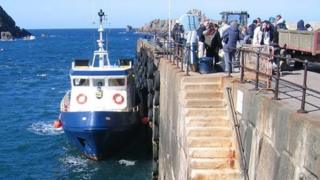 Isle of Sark Shipping made a loss of £343,500 to the end of September 2012, according to the latest accounts.
The firm, which is owned by Sark's government Chief Pleas, operates year round passenger and freight services from Guernsey to Sark.
A company spokesman said fleet refurbishments, poor weather and a new booking system contributed to the loss.
But he said no services would be cut and no taxpayers would be left out of pocket as result of the announcement.
Sark's Finance and Commerce Committee said it was reassured by Isle of Sark Shipping's current policies and financial forecasts.
The company spokesman said new booking and back office systems were paid for this year and were classed as one off costs.
He added it followed three years in a row of trading in profit and the directors said they expected to turn it around.
Islanders are invited to a public meeting to discuss the situation at 18:30 BST on 10 June at the Island Hall.