Guernsey bus services disruption continues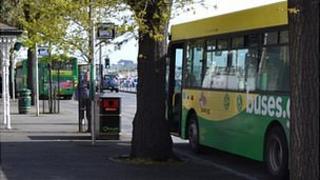 Disruption to Guernsey bus services is continuing while negotiations over driver working conditions are ongoing.
A reduced service on routes 11, 21, 41, 42 and 81 has been run on weekdays and will continue this week.
A driver, who did not want to be named, told the BBC further strike action could not be ruled out after a wildcat strike on 10 June.
Bus operator CT Plus said it hoped to resolve the issues and reintroduce its full scheduled services by 1 July.
Full details can be found on the Guernsey bus service website.
There are no laws in Guernsey governing strike action.
A Unite union representative has called for their introduction but Commerce and Employment Minister Kevin Stewart said they were not needed.
He said there had been just five days of strikes in the past 15 years and people in the island were willing to get around the table and solve issues.