Guernsey bus driver union warns against strike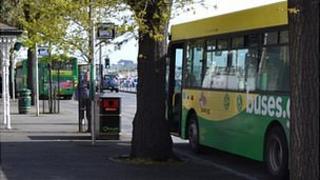 A union representing Guernsey bus drivers has advised its members not to stage a second strike in as many weeks, after the operator made concessions.
CT Plus drivers have been working to rule since 11 June, having held a 24-hour strike.
A further strike has been planned for the weekend but Bob Lanning, the regional officer for Unite, said progress had been made.
The industrial action followed the introduction of a new timetable.
'Tow the line'
Drivers claimed the schedules, introduced on 12 May, do not allow sufficient time for breaks between journeys.
They also said passengers are unhappy with the new routes and drivers are having to field the complaints.
Mr Lanning said earlier CT Plus had presented substantial improvements to drivers' duty cards.
He conceded this would not be enough to satisfy the drivers but he hoped they would "recognise the progress that has been made" and "tow the party line" by calling off the strike.
The drivers - about half of whom are members of the union - have said they will meet on Thursday night to discuss whether to go ahead with the action.
Mr Lanning said he would respect whatever democratic decision they made at that meeting.
Frank Villeneuve-Smith, the communications director for HCT Group which owns CT Plus, confirmed the company had made "significant moves to address drivers' concerns over the duty cards".