Guernsey States could provide flood aid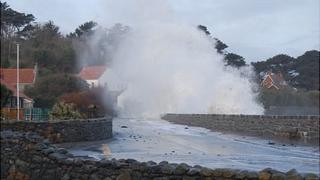 Householders and business owners could be offered government support to protect properties in Guernsey from future flooding risks.
It is one suggestion in a report aimed at improving sea defences.
Last year consultants Royal Haskoning estimated the island would need to spend £55m on flood defences over the next 30 years.
The Environment Department is asking the States to agree a plan for the work and to increase tidal monitoring.
If the moves are supported the department plans to ask for capital project funding to progress the two most urgent parts of the work; at Belle Greve Bay and both ends of the Clos du Valle at St Sampson's Harbour and Le Grande Havre.
In its report the department said while it improved and developed the main sea defences islanders also had a role to play.
It said householders and business owners needed to be prepared to protect their properties if the coastal defences were breached; either for a short time when the tide peaks or if they are overwhelmed by extreme events.
The department believes by improving monitoring of the tides better flood advice could be released to the public.
It reported the island's defences, excluding the harbour areas, involved almost 12km (7 miles) of built defences, just over 5km (3 miles) of boulder revetments and 2.7km (1.7 miles) of constructed piers and slipways.
The department allocated £55,000 for repairs in 2012 and £73,000 this year, but since 2008 has has spent more than £2.5m from the capital project budget to repair sea defences.