Contract ends for Guernsey's health chief officer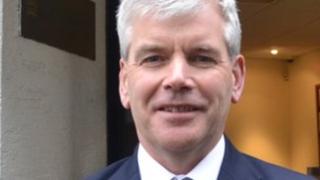 The head of Guernsey's health department has lost his job, the island's government has confirmed.
Health and Social Services Department (HSSD) chief officer Mark Cooke sent a letter to staff on Monday saying his contract "had come to an end".
An HSSD spokesman could not confirm why it had ended but said Mr Cooke had been off work for "a number of months".
Malcolm Nutley, the current head of social security, is to take over the role on an interim basis.
Guernsey's Health Minister, Deputy Mark Dorey, said Mr Nutley would focus on providing political support and controlling the department's budget, which was the biggest of all States departments.
He said Mr Nutley would keep his job as head of social security and would split his time between the roles with 80% of it at the health department.
Deputy Dorey said: "A permanent chief officer will be appointed in due course.
"But our focus at present is on improving service delivery, controlling [the] budget, delivering the Financial Transformation Programme, and continuing to plan for the future."