Glass spread over Guernsey show jumping field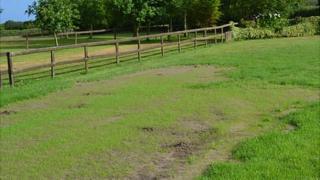 A show jumping event was forced to move venue after glass was accidently spread over the show ground at Chemin Le Roi.
Top soil from the States green waste recycling site was spread on the British Show Jumping Guernsey ground.
The glass, which was mixed into the topsoil, was only discovered after heavy rainfall.
The two-day event due to be held this weekend has been moved to the Guernsey Riding and Hunt Club site at Route des Bordages in St Saviour.
The contaminated soil at the show ground and at the recycling site has been removed and dumped in landfill.
Bob Fisher, from States Works, said in total about 80 tonnes of soil had been dumped to ensure no glass remained in what was left.
He said: "This is a one off, it's a failure of quality control which is something I'm in the process of reviewing and we will tighten up those controls."
Gail Simon, the chairwoman of the equestrian group BS Guernsey, said some grass seeding was needed to return the site to normal, but it was safe to be used by horses again.