Guernsey cow numbers in decline, cattle federation hears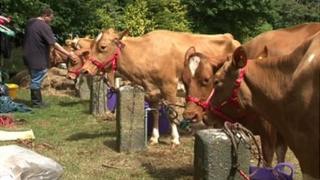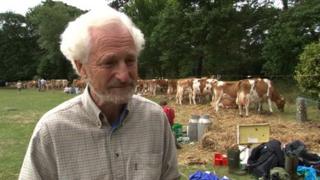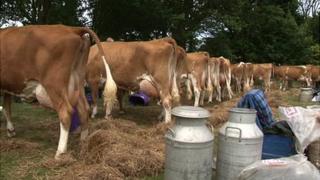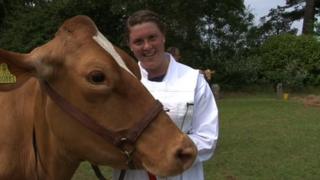 Guernsey cattle numbers have declined by about 1,000 a year over the last 21 years, a meeting of the World Guernsey Cattle Federation has heard.
Andrew Casebow, Guernsey's agricultural and environmental advisor, told the BBC the number of registered pedigree cattle had fallen by 21,000 since 1992.
He said there were now 14,000 around the world, compared with 35,000 when they were last recorded.
The federation is meeting in Guernsey to discuss the breed and its future.
Ray Watts, its president, said: "We've reached a crossroads. We've got to start pulling together if we want to save the breed.
"When I say save the breed that's probably a bit dramatic.
"It's not about next year or the year after but 10 years down the road we need to be thinking about... the next generation [of cattle] and the one after that."
He likened breeding cattle to building a house in that you need the foundations in place in order to build on them.
Mr Casebow said numbers on island, after which the cow is named, had also fallen in the same period, down from 2,100 to 1,400.
He said these cattle provided "just the quantity of milk we need in the island".
Specialist products
Mr Casebow said: "The Guernsey was always the premier cow for producing high quality milk, large quantities of butterfat, producing butter and a wonderful colour and favour in the milk.
"Over the last 20-30 years there's been much more concentration on high levels of milk production concentrating on the Friesian and Holstein most recently as the black and white cows have really come to dominate the world of milk production, largely because of cost."
However, he said there was hope in terms of luxury produce and moves in China to use the breed to improve the quality of milk.
Mr Casebow said: "People are looking towards more specialist products... if people are starting to be willing to pay a bit extra for these things that's another market for the cow.
"It may help it return to its rightful place as one of the world's premier breeds."
He said trials are being carried out in China about incorporating the breed into mega dairies, which have 10,000-strong herds, as farmers struggle to produce high quality milk such as those full of the nutrients needed by babies and children.
Mr Casebow said if these were successful and taken on it would help promote the breed and improve its profile around the world, which would have a knock-on impact for the island and its businesses.