Richard De Wit formally charged over Sarah Groves murder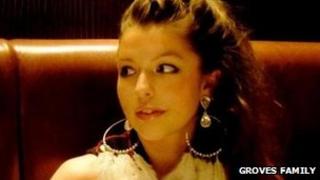 Weapons believed to have been used to kill Sarah Groves have been shown to a court in Kashmir.
The 24-year-old, from Guernsey, was found stabbed to death in a houseboat in Srinagar, Kashmir, in April.
Earlier, Dutch national Richard De Wit, 43, was formally charged with her murder and illegally fleeing from the state, to which he pleaded not guilty.
Among the evidence presented to the court were three items the prosecution said were used in the murder.
BBC reporter Riyaz Masroor said the prosecution was presenting a "big dagger, a small knife and scissors" as its primary evidence.
He said a shopkeeper appeared in court who said Mr De Wit bought the items from him.
The prosecution have also put forward evidence of Mr De Wit leaving the houseboat "immediately after Sarah Groves was found dead".
He was seen on a road "which had no picnic spots and only led out of Kashmir".
'Bizarre requests'
Lawyers for Mr De Wit said the evidence was only circumstantial.
Mr De Wit had continued to complain of "harsh treatment" by state authorities.
He claimed he had been "mentally tortured" by police and top officials, not been allowed to get in touch with his family and been denied access to aid agencies.
Authorities said they were not denying him access to his family and his confusion stemmed from mental health issues.
Doctors who treated Mr De Wit said he had made "bizarre requests and listened to strange music".
One doctor believed Mr De Wit was suffering from paranoid schizophrenia, but no evidence of this had been presented to the court.
A British embassy official was among those who attended the hearing.
The trial is set to continue on 29 July.