Alderney harbour crane replacement due to be delivered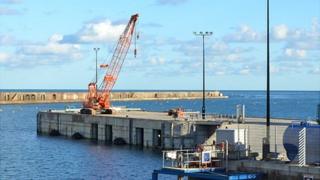 Alderney's new harbour crane, replacing one that snapped during loading, is due to be delivered later in July.
A temporary crane has been in use since the jib holding the hook broke in August 2012.
Louis Jean, chairman of the Estates and Services Committee, said: "This is a major expense... and a crucial asset.
"The harbour master is well aware that the mistakes of the past must not be repeated. We will certainly be taking better care of the new crane"
The crane is due to be shipped to island in two pieces and assembled on the quay.
Harbour staff will be trained on the new equipment before the crane comes into operational use.