Guernsey's top civil servants standing down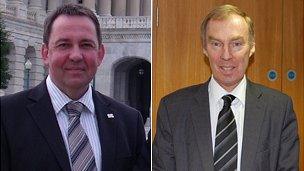 Guernsey's two highest-ranking civil servants have announced their retirement.
Mike Brown, chief executive of the States, will step down in April next year and his deputy Nigel Lewis is due to leave the government in October.
Mr Brown has served as the head of Guernsey's civil service for the past 20 years.
He said he hoped the announcement would stop speculation from distracting for the search for a replacement.
Mr Brown joined the States in 1978 as a chartered accountant and was deputy treasurer before serving as States treasurer from 1986-93.
He said: "The previous two decades have seen enormous changes in Guernsey's position in the world - in its economy and in its public service.
"The States has had to make significant changes and has moved to being a more corporate, effective and efficient organisation."
"It has been a great honour to have served the island for over 35 years," Mr Brown added.
Related Internet Links
The BBC is not responsible for the content of external sites.