Jersey receives Island Games flag from Bermuda for 2015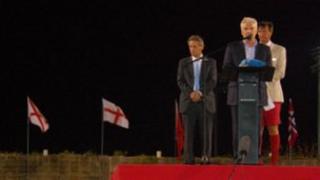 Jersey has been handed the Island Games flag ahead of its hosting of the biennial event in 2015.
During the closing ceremony of the 15th games in Bermuda, the chairman of the organising committee for Jersey 2015 spoke of the island's sense of pride.
Phil Austin said he also felt "a great sense of responsibility".
Jersey's competitors finished third in the medal table in Bermuda - behind the Isle of Man and the hosts - with 23 gold, 29 silver and 28 bronze.
'True sportsmanship'
Jersey swimmer Ian Black, who won eight medals during the week-long multi-sport event, was chosen to carry Jersey's flag, as hundreds of competitors from 22 islands gathered for the closing ceremony at the National Sports Centre in Bermuda's capital, Hamilton.
Jorgen Pettersson, the chairman of the International Island Games Association, told spectators to gather once again in Jersey in two years' time "so that the spirit of true sportsmanship may be continued with courage and honour to all who participate".
In the final events of the 2013 games, Jersey athlete Elliot Dorey led from the front to win gold in the men's 1500m.
He then helped the men's 4x400m relay team snatch gold from the favourites Bermuda.
Jersey won the right to host the 16th Island Games by beating rivals Gotland by one vote in a selection process held in 2010.
The Island Games were inaugurated in 1985 and were last hosted by Jersey in 1997.