Royal baby: 21-gun salute at Guernsey's Castle Cornet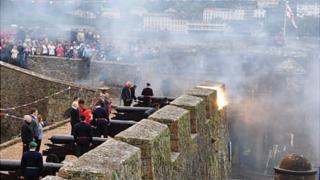 To celebrate the royal birth a 21-gun salute was fired from Guernsey's Castle Cornet at midday.
It follows news the Duke and Duchess of Cambridge's son was born at 16:24 BST on Monday.
In the UK two separate gun salutes have been held, one in Green Park and one at the Tower of London.
The cannon annually fire a 21-gun salute on the Queen's official birthday and last year a salute was fired to celebrate the Queen's Diamond Jubilee.
The castle, at the entrance of St Peter Port Harbour, is one of only 10 saluting stations outside London that may fire a 21-gun salute.
It has a unique royal pedigree as it was the last Royalist stronghold to surrender in the English Civil War.