Guernsey fishermen warned of undersea electricity cable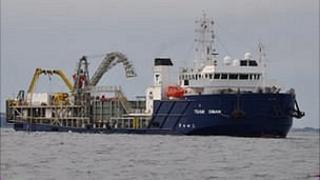 Guernsey fishermen are being warned about the risks of snagging the island's undersea electricity cable to Jersey.
The cable was offline for six months last year when a section of it failed and had to be replaced.
A Guernsey Electricity spokesman said manufacturers were still investigating the cause, but had ruled out a boat.
However, Francis Murray, senior project engineer, said there was a risk trawling could cause damage.
He said: "While the majority of the main undersea cable is buried... there are exposed sections."
If fishing gear did foul the cable it could led to the vessel capsizing.
Mr Murray said there should be no issues with the cable being snagged by fishing vessels as long as fishermen made sure to keep up to date charts, including the locations of the cable.
He said: "Obviously the cable is very important to Guernsey and we don't want anything to happen to it, or to any boats that fish in Guernsey's waters."
Mr Murray said: "Regular patrols of the cable are made and ship movement is monitored using tracking technologies.
"Guernsey Electricity has also worked with all of the necessary agencies to ensure that there is a clear process to follow if a captain thinks they may have come foul of an undersea cable."
Before the failure of the cable in April 2012, Guernsey Electricity was importing 80% of what the island used from France, via Jersey.
The permanent failure of one of the two undersea cables linking Jersey and France in June, while the Guernsey cable was not working, has meant reduced supplies to the island, with only 40% of capacity being imported.
The rest is generated on island by burning fossil fuels.
The company is investigating possibly installing a second Guernsey-Jersey cable by 2016 and a direct Guernsey-France cable by 2021.
Mr Murray said fishing boat operators would be able to sign up to free information services about the location and status of cables to ensure they could give them a wide berth.