Alderney States fined £20,000 over crane safety issues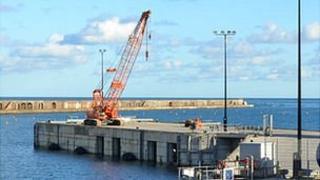 Safety changes have been made at Alderney Harbour since a crane broke while loading freight, the politician responsible has said.
No-one was hurt in the incident last August, which involved the crane's jib snapping off.
Alderney States was fined £20,000 in Guernsey's Royal Court on Monday for breaching health and safety laws.
Louis Jean, Estates and Services Committee chairman, said maintenance would be a priority with the new crane.
Mr Jean, who was not a States member when the incident occurred, said: "I humbly apologise for any risk to life or limb here in Alderney and I also humbly apologise for the situation itself.
"I certainly will be doing my best to make sure for everybody's safety - public and the people who work for the harbour authority this can never happen again."