Guernsey Post to celebrate royal birth with stamp set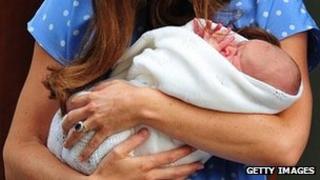 Guernsey Post has announced plans to issue a set of stamps to celebrate the birth of the royal baby.
The Duchess of Cambridge gave birth to a boy weighing 8lbs 6oz (3.8kg) on Monday at St Mary's Hospital in London.
Guernsey Post said it would choose one image for the commemorative set and then seek royal approval for it.
Dawn Gallienne, the head of philatelic said she hoped the company would be able to release the set "in the next couple of months".
Each one will comprise a miniature sheet, first day cover and presentation pack.
Ms Gallienne confirmed every Guernsey and Alderney baby who was born on the same day as the latest member of the Royal Family would receive the stamp set, including a framed first day cover.
Three babies were born in Guernsey and one baby was born in Alderney on Monday.
The name of the royal baby, who is third in line to the throne, has yet to be announced but it will be known as HRH Prince (name) of Cambridge.