Guernsey States members to debate AFR raid settlement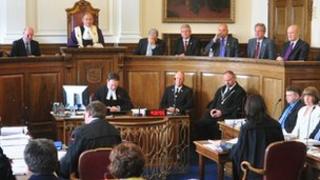 Guernsey's Home Department will face a fresh attempt at next week's States meeting to make public the figure paid to law firm AFR Advocates.
Deputy John Gollop will formally ask Home to publish, by February of next year, the sum paid to the firm in the aftermath of an illegal police raid.
The Policy Council has opposed the move, saying confidentiality agreements would have to be renegotiated.
Deputy Gollop said it was time to end speculation following the raid in 2010.
Following the night time raid, AFR took legal action against individual police officers and against the judge who authorised the warrant.
The raid was later deemed to have been unlawful and an out-of-court settlement was reached.
Highly critical
Deputies will debate and vote on the issue at their meeting on 30 July and a simple majority will determine whether the Home Department is directed to release the figure.
In February, Home Minister Jonathan Le Tocq told States members there had been, "through the actions of Chief of Police Patrick Rice, the minimum possible expenditure of public money under the circumstances".
Deputy Le Tocq subsequently faced questions during a specially convened Scrutiny Committee hearing on his department's decision not to disclose the sum.
Scrutiny's findings were highly critical of Home's handling of the affair.
However, the committee chose not to have its report debated in the States assembly.