Repairs to Guernsey's west coast wall completed early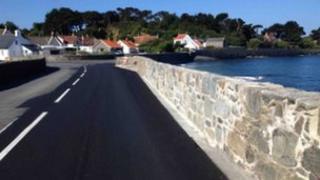 Repairs to the Perelle sea wall on Guernsey's west coast have been finished earlier than planned.
Project engineer Jenny Giles said fine weather had helped speed up the process, during which 2,000 tonnes of granite armour boulders were used.
A 7m (23ft) section of the wall was destroyed in October, after strong winds combined with a high tide.
Jersey company Brenwall was contracted to carry out the repairs, prompting complaints from some deputies.
They argued Guernsey companies had been overlooked during the tendering process but the Environment Department said local firms had been unable to commit to carrying out the work at the right time.
Strength unknown
Ms Giles said the repaired section was now "far more secure than any [other] parts of this wall", after fibre-reinforced concrete was used to rebuild it.
Rock armour was placed across a 50m (164ft) section of the bedrock on the seaward side of the wall.
Each boulder, averaging 3.3 tonnes in weight, was placed individually but Ms Giles said the next few tides would settle them in to place.
The work began on 10 June and had been expected to take eight weeks.
An Environment Department spokesperson said the project had been completed within the £500,000 budget.
A report by consultants Royal Haskoning, released in 2012, recommended the States of Guernsey spend £50m on its coastal defences over the next 20 years, in order to avoid significant flooding.