Guernsey Electricity faces further delays to generator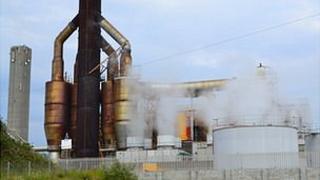 There has been a further delay to the full commissioning of Guernsey Electricity's new generator, according to the company.
Guernsey Electricity says that while the £14m generator has been running well in tests, it is still producing excess noise from the exhaust.
It was originally due to come on line in March but issues discovered during testing meant it was delayed.
The latest delay was caused because noise levels were still too high.
Residential area
The company upgraded the 360-tonne oil-fired generator with an eight tonne stainless steel silencer earlier this year but that has not done enough.
Bob Beebe from Guernsey Electricity said noise levels were normal for a typical power station but as it was close to a residential area it needed to be even quieter.
The power station in the Vale already has five slow-speed engines and three gas turbines with which to produce electricity for the island - the oldest of which was installed about 35 years ago.
Guernsey Electricity said improvements needed to be made before the changeover to the new generator can take place.
The company is working closely with its contractor to ensure the engine is ready for commercial service.