Plans for £20m Guernsey bus scheme unveiled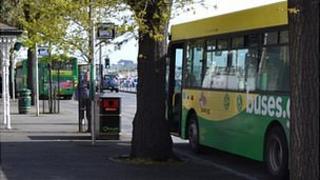 About £20m could be spent on a new bus fleet and depot on Guernsey under plans put forward by the States.
Deputy Roger Domaille said a depot would make it easier to tender for a bus service in the future.
The current operator CT Plus uses old tram sheds as a depot at the moment as the previous one was sold off and replaced by social housing.
Deputy Domaille said the project would include £5m for replacing and refitting buses.
He said: "This money is not for a completely new bus fleet, it is for a replacement programme which would include buying new buses, renovating some and upgrading others."
The minister said another £15m was earmarked to find a permanent home for the bus operator and service.
'Could cost more'
Deputy Domaille said: "It was an incomplete decision, social housing is clearly a priority but in taking away the existing depot the States should have gone to a phase two and replaced it.
"The £15m is a build cost and doesn't include having to purchase land so it could cost more."
He said despite a relatively low number of passengers, upgrading the bus service was vital.
"We have to have a bus service, if we want it to be money efficient that is one argument, if we want it to be environmentally efficient that is another argument.
"Despite complaints it is a good bus service, it has its problems but it is a good service," he said.
Passengers have complained about delays, about the introduction of new routes in May and a tiered pricing system under which residents are charged £1 and non-residents £2.
The project is due to be debated alongside other capital projects in September.