Channel Islands gas prices to rise by 3.5%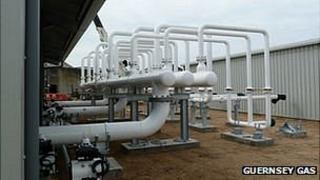 Channel Island gas prices will rise by 3.5%, the International Energy Group has announced.
Both standing charges and tariffs will increase from 16 August, with unit prices in Guernsey rising from 12.4p to 12.83p and 12.76p to 13.21 in Jersey.
John Davies, commercial director, said the increase was due to global wholesale energy costs remaining high.
He said: "It was not a decision we have taken lightly as we appreciate that price increases are not welcome news."
Mr Davies said the weakening of sterling against the US dollar was also behind the rise.
The company also announced the completion of work to allow its gas production plants in both islands to use both butane and propane.
Prior to the project, which cost more than £5m, only butane could be used in mains gas while propane was provided to those properties using cylinders.
Mr Davies said: "Some mains gas customers appliances have been adversely affected this year due to the well publicised issues with butane supplies we source from Europe.
"By operating the mains networks on propane rather than butane we eliminate the intermittent issues we have experienced with butane supplies."
Jersey's plant in St Helier switched to using propane on 19 July and the St Peter Port plant, in Guernsey, is due to switch in the middle of August.
Mr Davies said: "The switchover in Jersey went smoothly and our customers won't have noticed anything different and we are confident that the switchover in Guernsey will be equally as trouble free."