Guernsey cattle tethering may need licence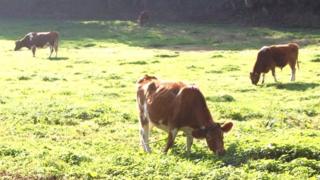 Cattle farmers on Guernsey could have to apply for a licence to tether their herds, under plans by the island's commerce and employment department.
The move is intended to ensure animal welfare is not put at risk.
Smallholder Graham de Jersey said tethering cattle was a long-standing tradition in the island and licensing was not necessary.
He said tethered animals were well cared for under existing laws to prevent animal cruelty.
Mr de Jersey said: "I can't understand why a minority of people want to take away the heritage of the people of Guernsey.
"Cattle have been tethered on the common for centuries, it is the only way you can keep them on the common.
"If you don't look after the animal you will not get the product at the end of the day. You have to keep it in good condition or it loses weight and anyone who keeps an animal of skin and bones is an idiot."
Vivienne Ferney-Hough from the organisation Promoting Animal Welfare, said it was about time Guernsey banned tethering.
She said: "The amount of Guernsey cattle and grazing animals has declined, I feel there is enough grazing around at the moment for Guernsey not to need to tether its cattle.
"Most other countries have stopped doing it because it is cruel. Mainly because of cases where animals have been left without adequate shelter, food or water."
Ms Ferney-Hough said there should be support for farmers to put up fencing if they could not afford to do it themselves.
If plans are approved by the States it would be introduced under the new Animal Welfare Ordinance.
The department is asking islanders for their views on the plans.