Guernsey Airport radar work delayed by weather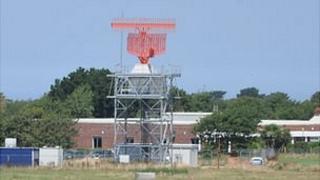 A new radar system at Guernsey Airport is due to be completed by the end of the year after delays caused by bad weather.
Colin Le Ray, airport director, said the £3.25m system was due to be in use by May, but heavy rain last summer delayed work on the tower and cabling.
He said Jersey had already completed a similar upgrade and they would be able to act as a backup for each other.
Mr Le Ray said the additional data provided would increase safety.
He said: "We're now able to interchange the data between both islands. Previously, we were just receiving it so that made us quite vulnerable if there had been any problems in Jersey.
"We can now exchange it freely, we were paying Jersey previously for that data we no longer have to."
Mr Le Ray said the current radar had been installed in the early 1990s and the system had only been installed at one other airport - the one in Jersey.
He said the uniqueness of the system meant they were "not 100% certain how long it will last" but that it was "such a piece of critical navigation equipment that we can't afford to be without it".
Mr Le Ray said the new unit was widely used across the UK and Europe.
He said a specialised plane would be brought in for four days in September to "fine tune" the radar at its extremes, which include the mid-Atlantic and the south coast of England from Cornwall to Southampton.
The radar is then expected to come into use in December once staff training has been completed and the old system will remain in place for six months as a backup before being decommissioned.