Holocaust plaque torn from Guernsey wall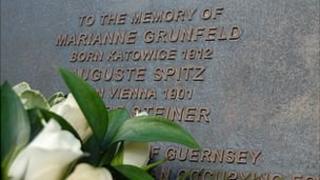 A plaque remembering three victims of the Holocaust has been torn from a wall in Guernsey.
A £1,000 reward has been offered by Crimestoppers for any information leading to the conviction of those responsible.
The three Jewish women remembered on the plaque were deported to France on 21 April 1942.
Marianne Grunfeld, Auguste Spitz and Therese Steiner all later died at the Auschwitz camp.
The plaque was repaired in 2010 after it was vandalised.
The Channel Islands were the only part of British soil occupied by German troops during World War II.
The islands were invaded in June 1940 and liberated in May 1945.