Rare plants 'flourish' in restored wetland in Guernsey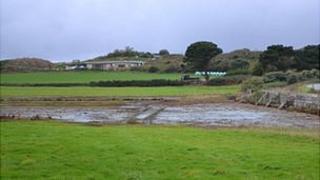 Rare plants are flourishing in a restored wetland habitat, according to a Guernsey environmentalist.
Last year an area of saltmarsh, which had been destroyed when thousands of tonnes of stone was dumped in the area in the 1980s, was returned to nature.
Jamie Hooper, from Environment Guernsey, said it had allowed rare plants to flourish at the Colin Best Nature Reserve at L'Eree.
The reserve sits within the island's only Ramsar site.
Mr Hooper said: "By taking the spoil off and restoring the historic field level the plants would recover and move back in.
"They did straight away, which suggests the seed bank was there just waiting all those years for this opportunity."
The work was paid for by the Public Services Department in an attempt to offset the environmental impact of the £80m airfield refurbishment project at Guernsey Airport.
Mr Hooper said an area of wet grassland was lost in the extension of the runway safety areas and while the restoration was not a "like for like" move "the opportunity to put land aside for conservation and for wildlife are limited".
He said: "It does have local, national and international importance, it supports habitats that we don't find elsewhere and associated wildlife that depend on it."