Guernsey bomb removal to require evacuation of homes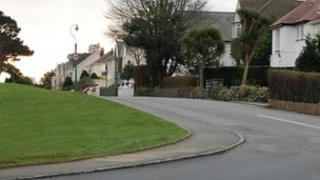 The removal and detonation of an unexploded World War II bomb will require the evacuation of several dozen homes on Sunday.
The sea mine will be taken from its current location at Bluebell Wood in St Peter Port and taken along Fermain Road, Fort Road and Fermain Lane.
It will then be taken out to sea off Fermain Bay and "destroyed by way of a controlled explosion," police said.
The bomb was found during a Guernsey Police training exercise on Wednesday.
Planned evacuation
The force's Explosive Ordnance Disposal (EOD) personnel have been working with experts from the Royal Navy since Thursday.
Once the make and model of the device were established, the EOD teams determined there would have to be an exclusion zone of 300m around the bomb's route.
"Householders in the affected area and roads will be spoken to by police officers in respect of the planned evacuation," a statement said.
"People living in the immediate area of Bluebell Woods are requested to evacuate their homes from 06:00 BST on Sunday and residents within a 300m radius of the route are asked to evacuate their homes from 08:00 in order to allow the safe movement of the weapon to Fermain Bay," it continued.
A police spokesman said earlier the number of homes affected had yet to be calculated, but it would be "many dozens, possibly hundreds".
Chief Insp Antonia Read asked islanders to contact any elderly relatives who lived in the area to ensure they were able to find alternative accommodation, if necessary.
It is anticipated that the operation will be complete by late Sunday morning and residents will be able to return to their homes from 12:00.
Refreshments will be available at St Martin's Community Centre during the period of the evacuation.
Normandy landings
In addition, a telephone number of 01481 719421 is available for residents who require further information.
It is thought the bomb may be one of those dropped by the Royal Canadian Air Force in 1944.
Bombing raids were carried out against four radar installations operated by the occupying German Forces at Fort George in the build up to the Normandy Landings on 6 June of that year.
Some of the bombs fell wide of their targets and into adjoining properties, although there were no civilian casualties.
A 500lb bomb from one of these raids was found under a gas main at Fort Road in 1989.