Guernsey WWII bomb disposal to cause flight disruption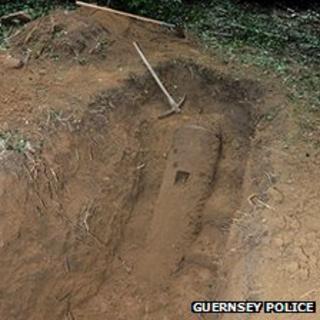 Flights will be disrupted at Guernsey Airport on Sunday due to the detonation of a World War II mine.
Royal Navy experts will be taking the 900lb (400kg) bomb from St Peter Port's Bluebell Wood, where it was discovered on Wednesday, out to sea for disposal.
Flights are likely to be disrupted throughout the day as the exclusion zone overlaps with the flight path of the airport's western approach.
Passengers have been advised to stay in touch with their airlines.
Ashley Nicholas, the deputy airport director, said: "We have to keep a 300m (1,000ft) bubble around the device - so that includes vertically - and that will impact upon some air travel."
He said the extent of the disruption would depend on the wind conditions.
However, he said small private aircraft would be likely to face more delays than the larger commercial aeroplanes.
The operation to unearth the British-made sea mine is expected to begin at 05:30 BST.
Dozens of homes are to be evacuated during the procedure, which is expected to conclude at about 12:00.
The bomb is thought to be one of those dropped by the Royal Canadian Air Force in 1944.
Bombing raids were carried out against radar installations operated by the occupying German forces, in advance of the Normandy landings.