Guernsey's bus fleet 'does not need upgrading'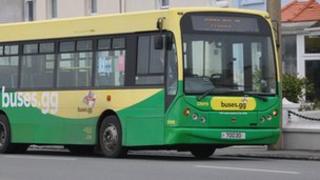 Guernsey bus operator CT Plus has said new vehicles are not yet needed despite States plans to invest in the fleet.
The Environment Department said it wants to spend £20m on a new bus fleet and depot in the near future.
Frank Villeneuve-Smith, from CT Plus, said the average lifespan of the buses they use in other regions was about seven years.
He said there would be advantages to newer vehicles, but the current fleet would be fit for purpose for some time.
Mr Villeneuve-Smith said: "The working life of a bus can go on and on and on. There are benefits to reliability if a fleet isn't averaging ten years old, but there is no reason why the current fleet doesn't have a few years life in it yet."
Passengers have complained about delays, about the introduction of new routes in May and a tiered pricing system under which residents are charged £1 and non-residents £2.
Deputy Domaille said the project would include £5m for replacing and refitting buses.
He said: "This money is not for a completely new bus fleet, it is for a replacement programme which would include buying new buses, renovating some and upgrading others."
The bus fleet and depot project is due to be debated alongside other capital projects in September.