Guernsey bus company 'clamps down' on fares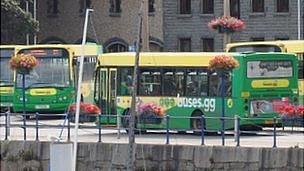 Residents will need a bus travel card to qualify for a reduced fare, the company that runs Guernsey's public service has announced.
In May, a fare system requiring locals to pay £1 and visitors £2 was brought in and islanders could get the lower rate by showing identification.
CT Plus said only those with Ormer cards would get the reduced rate.
The company said it would stop bus drivers having to question the residential status of passengers.
The Ormer card, which allows islanders to buy journeys in bulk - such as 50 journeys at 60p each, was launched in 2010 and is named after a rare mollusc harvested from the island's seashore at very low tides.
The company said the cards cost £1 and identification such as a driving licence, passport or a recent utility bill was required in order to obtain one.
The introduction of the two-tier fare system coincided with major changes to the routes and timetable, both of which resulted in the company receiving a number of complaints from passengers.
CT Plus has announced a major shake up of its timetable for its winter timetable, due to come into force on Monday, 7 October 2013.
An end to the Route 111
The introduction of three new routes - 12, linking Pembroke and St Peter Port via L'Islet and the Bridge, 92, a reverse of the Route 91, and 121 linking the west coast and town
The expansion of 91, which runs from the bus terminus, St Martin, the airport, along the west coast and the Bridge via L'Ancresse and Bordeaux
Additional services on 61 to aid commuters and school pupils
Changing the 71 to provide a direct link from the airport to the Princess Elizabeth Hospital and the Grange
Changes to service timings, especially on the 41, 42 and 81
A public consultation on the plans is due to close on 13 September, with the services due to launch just over three weeks later.
A public presentation on the plans is due to take place at 18:30 BST on 5 September at Beau Sejour Leisure Centre.
The Environment Department, which is responsible for public transport and approving the timetable, has kept a log of comments and complaints "received in respect of the adequacy, suitability and reliability of the public bus service" over the past six months.
A spokeswoman said this would be used along with the results of the consultation when considering the proposals for the winter timetable.
Related Internet Links
The BBC is not responsible for the content of external sites.