Shooting-stars boost Alderney's dark sky status bid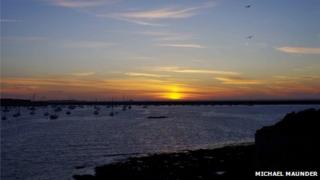 Alderney's bid to achieve dark sky status has been boosted by a shooting-star gazing mission.
More than 60 people witnessed an average of one Perseid a minute, at least two other active fainter showers and two passes of the space station during the height of August's Perseid meteor shower.
Dark sky status is given to an area free of artificial light pollution.
It is granted by the International Dark Sky Association.
Alderney would become the second Channel Island to achieve the status after Sark was awarded it in 2011.
'Glowing dust trail'
The information from the star gazing mission has now been collated and will be added to national and international databases.
Alderney's resident astronomer Michael Maunder said: "Around midnight one spectacular Perseid lit up the sky passing immediately overhead and left a glowing dust trail for over half a minute, something only possible to see that long in Alderney's clear skies.
Mr Maunder, who co-wrote a number of astronomy books with Patrick Moore, added: "This experiment was not only important because our clear skies enabled us to collect this data, but also because it attracted people to the island.
"Visitors who appreciate Alderney's dark skies first-hand will help us to spread the word on what our island has to offer stargazers and astronomers"
'Rare daytime activity'
Mr Maunder added that Alderney brings different opportunities to those in its neighbouring island Sark, with astronomical phenomena clear to see during the day as well as at night.
"The main aspect which sets Alderney apart is known as laminar air flow," he said.
"On Alderney the air travels near to sea level over most of the island and doesn't become turbulent, which provides clearer star images.
"This laminar flow phenomenon is also what leads to rare daytime solar activity being quite common in Alderney.
"These include multiple 'green flashes' as the sun rises or sets, 'sun dogs' which create bright spots of light like a ring or halo in the sky and solar pillars shooting upwards.
"These are all atmospheric phenomenon which are best spotted over unobstructed sea horizons like ours including our views over Braye and Longis Bay."