Guernsey coastal locations for defibrillators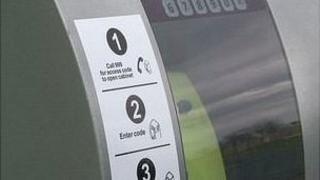 Defibrillators could be installed at six sites around Guernsey's coast.
The machines can deliver electric shocks to treat people suffering from cardiac arrest.
Planners have been asked to approve installations at Vazon, L'Eree, Portelet, Pembroke, the Bridge and Jerbourg.
Defibrillators have already been installed at Footes Lane and St James paid for by funds raised by the 2012 Swimarathon.
Acting senior officer Dean De La Mare, from St John Ambulance, said the coastal locations were chosen as they were popular with visitors and locals.
He said: "The ambulance is going to be here as fast as say the centre of St Peter Port so we've looked at areas where they can be installed so they can be used in the minutes it takes the ambulance to get there.
"They're going on the outside of public conveniences as there's already an electricity supply there."
The defibrillators are kept at a constant temperature and can only be accessed by calling the ambulance service and getting a pin code which unlocks the box.
Four defibrillators are also due to be installed in the island's high schools.
Mr De La Mare said: "If they're used once to save somebody's life then the whole thing would have been worth it."