Guernsey Royal British Legion demolished for housing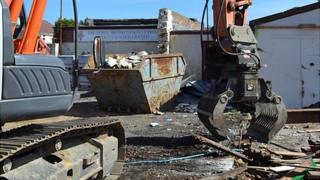 A former Royal British Legion branch in Guernsey has been demolished to be replaced by 14 social housing flats.
The southern branch in La route des Coutures, St Martin, was sold to developers in 2006.
The development aims to provide housing for elderly islanders who need on-call care and support.
Jim Roberts, director of housing strategy, said social housing was a cost effective way of accommodating the island's growing elderly population.
He said: "[In the future there will be] increased number of pensioners and therefore increasing number of people that find it harder to live independently.
"Rather than focus entirely on residential and nursing care, which can be expensive, this type of accommodation is almost preventative in nature, it means people can get the help they need generally at a lower cost to the States."
The branch was closed after a relaxation in the Sunday drinking laws saw a fall in membership numbers.
The Royal British Legion has two other branches; northern branch at Picquerel, L'Islet and western branch at Rue de la Fosse, St Saviour.
Work on the site had been due to start in November but was delayed after the invasive weed Japanese knotweed was found on the site.