Breeding seabirds given protection in Guernsey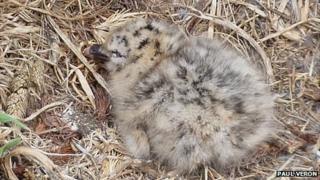 Moves to keep people and dogs away from breeding seabirds in Guernsey have been described as a success.
In July rope barriers and signage were installed around the shingle bank at L'Eree, which is used by a number of species of seabird and wader.
The signs asks people to keep to the paths and ensure dogs are kept on a lead at all times.
Ornithologists described the project as a success after at least one chick was successfully reared.
Donna Francis, the Guernsey RSPB group leader, said: "Birds put to flight whilst resting or feeding are wasting valuable energy at a time when they're working very hard to raise their young."
The project, which was the work of La Societe Guernesiaise, the RSPB and the Environment Department, was trialled last year at Lihou.
Jamie Hooper, from La Societe Guernesiaise, who reported the successful raising of the chick said it followed a number of difficult years.
He said: "Seabirds and waders have a tough time breeding around the coast, there are many pressures on their traditional nest sites so it's good to be able to report some success.
"A survey in Lihou recorded notably higher numbers of fledglings in the second year of temporarily roping off sections of the coast.
"Hopefully we can now look forward to even better results in the years to come as the adult birds there become more settled with the increased level of protection."