Guernsey sewage plant 'makes stench a lot worse'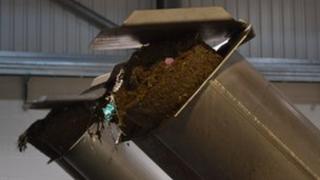 A Guernsey sewage treatment plant, recently upgraded at a cost of £11m, has left residents complaining of a worsening "stench".
The facility, at Belle Greve in St Peter Port, removes non-biodegradable material from sewage using a filter.
This is then taken to landfill in skips and it is during this operation that staff at Guernsey Water believe smells may be escaping.
One resident said the smell problem now seemed "never ending".
Resident Kane Sarre said: "I think it's disgusting. It should be taken down."
"They said this was supposed to stop the stench but it never has," Mr Sarre said.
Another resident, Amanda Queripel, said: "It just seems never ending sometimes and it really doesn't smell nice at all."
Helen Legg, who lives not far from the complex, said: "We need to shut [our son's] room two hours before he goes to bed because it really stinks.
"Mostly it's the children who say 'Phew! It stinks. We're coming in'."
'Inevitable'
Mrs Legg said she and her neighbours discussed the smell "almost every day".
Mark Walker, the capital delivery manager at Guernsey Water, said the doors had to be opened two or three times a week for the skips to collect the waste.
"Unfortunately that's going to be inevitable," he said. "We can't seal that in. That might be one of the causes of odours escaping."
He said the plant took "99% of the flow that comes from the entire island".
He said there had been very few calls from residents complaining about the smell and urged them to give the company more information about when they detected strong smells.
However, he said every complaint made so far had been investigated.
"So far we haven't been able to identify anything specific," he said. "Sometimes it depends on which way the wind is blowing."