Guernsey KGV project reaches 'milestone'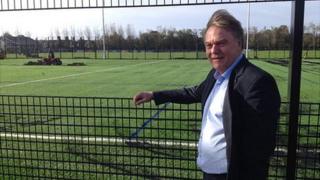 The completion of an artificial football pitch at the KGV playing fields is an "important step" in the site's £3.5m regeneration.
The 3G pitch has been purpose-built for football and rugby under the Guernsey Sports Commission's £3.5m project.
Graham Chester, operations director, said the pitch would allow them to start generating a regular income.
He said: "We're hoping from it we'll be able to pay the loans back and to help with the rest of the development."
The Guernsey Sports Commission plans to begin running leagues this winter on the 3G surface, which can also be used for rugby.
Mr Chester said the pitch could be used to play all senior football and national league rugby, so as well as their own league it could be used to catch up on matches if there was a particularly bad winter.
The project includes two half-size grass rugby pitches, improvements to the cricket facilities, a new changing room block and an assembly room.
The King George V playing fields were created in 1937 from public.