Herd of Guernsey cattle to conserve island's grassland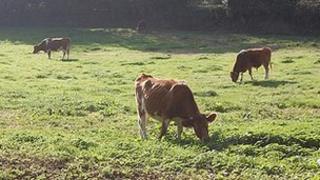 A new herd of Guernsey cattle is to be established to help conserve the island's meadows.
La Societe Guernesiaise is planning to buy six to eight steers to graze on its own properties around the island.
The society, the largest land owner after the States, claims half the island's species-rich grassland has been lost in the last 10 years.
It has estimated the cost of the project at £40,000, half of which it aims to raise by Christmas.
At that time, it will need to commit to buying new calves. Equipment for the herd's care will then need to be in place by April.
Julia Henney from the Guernsey Biological Records Centre, said the livestock would become a "land management tool".
"Since the Second World War, there's been a lot less subsistence farming. It's all turned to commercial farming," she said.
"So whereas previously every household would have their cow and they'd turn it out to this marginal land to graze it, that's stopped."
Miss Henney said this had led to bracken and brambles encroaching on to the marginal land, creating dense scrub.
The society hopes the new herd, which will be free of worming medication, will provide better habitats for insects, and therefore birds.
Rodney Collenette, the president of La Societe, said he was keen to see a minor law change which would enable the herd to graze on the common land at L'Ancresse.
Currently, only those living in the Clos Du Valle - the northern part of Guernsey which was a tidal island until land was drained 200 years ago - are permitted to do so.