Second mobile crane for Guernsey harbour arrives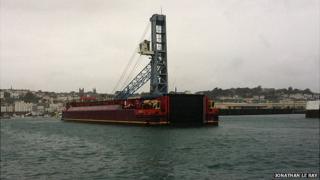 The second of two mobile cranes being installed in Guernsey's St Peter Port Harbour has been delivered.
It is part of a £13.75m project to replace four of the fixed harbour cranes and refurbish the berths.
Work to remove corrosion on the undersides of the berths before repairing them is due to be completed by the end of the year.
Until that work is completed only one mobile crane will be in use to lift freight on and off of vessels.
The fifth fixed crane on berth six, which was installed in 1946, mainly serves the Sark vessels and will remain in use.
Of the other four cranes, all of which were at least 40 years old, two were removed in February before the first mobile crane arrived and the other two were removed last month.
The cranes that were removed could lift a maximum of 32 tonnes while the mobile cranes each have a lifting capacity of 63 tonnes.
The refurbished berths will have a design life of at least 50 years and the cranes 25 years.
The second mobile crane was loaded on to a barge and left Antwerp on 12 October, but due to the bad weather the barge diverted to Southampton until the weather cleared.
Last year more than 400,000 tonnes of goods passed through St Peter Port and St Sampson's Harbours, which was about 98% of all freight that came into or out of the island.
More than 200,000 tonnes went through St Peter Port Harbour with about a quarter lifted on or off using cranes and the rest by roll-on roll-off ships, where the goods are driven on or off vessels.
Prior to World War Two, before the island had roll-on roll-off facilities, the harbour had as many as 25 cranes.