Guernsey authorities try to improve bad weather response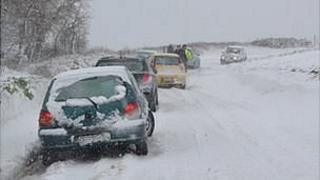 Guernsey authorities are hoping a new plan will improve its response to and communication with the public in severe weather.
Heavy snow hit the island in March causing the closure of schools, roads and the airport for several days.
The communication from the States - and the opening and then closing of the schools - was criticised by some.
Catherine Veron, emergency planning officer, said those involved had agreed how to work better together.
She said: "Emergency planning is a continuous process and requires both responders and community engagement if it is to be successful."
'Regular updates'
Mrs Veron said the local media played a "vital role" in keeping the community up-to-date in what could be "a rapidly-changing situation".
As part of this approach Guernsey Police will provide regular updates on road conditions.
Closure of the States schools will, as previously, be announced through local media by 07:15 on a weekday morning or made later in the day if severe weather conditions arise during the school day.
Mrs Veron said that whatever advice was given out by the authorities it was "the responsibility of the individual" to decide if a journey was essential and if they have a suitable vehicle and the necessary driving experience.