Guernsey disability strategy passed and given extra funding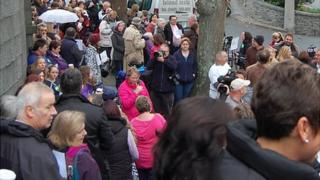 A strategy aimed at improving the rights of disabled people in Guernsey has been unanimously improved by the States.
Deputies also agreed to appoint a full-time disability and equality officer and added an extra £80,000 in funding.
Before the meeting hundreds of campaigners gathered outside the States building.
Deputy Chief Minister Jonathan Le Tocq said it was the first step in bringing equality for everyone.
He said: "This type of change will take a long time. For such a sizable change we are talking decades rather than months or years."
Of the 14,000 islanders with a disability about 4,000 experience significant difficulties in their daily lives, according to a survey carried out by the States in 2012.
Work on the strategy began in 2011 with the appointment of a disability and equalities officer and this post will be made a full-time civil service position.
With the approval of the strategy work can begin on drafting anti-discrimination legislation with a view to having Guernsey sign up to the UN Convention on the Rights of Persons with Disabilities - the island is among the 5% of territories that have not signed it.
The strategy has been given £250,000 for one-off projects; £150,000 for developing information for disabled people and carers, £50,000 to create guides for businesses and £50,000 to audit and suggest changes to the States' employment practices, premises and services.
This was £80,000 more than originally planned for developing information for disabled people and carers.
Over the past few weeks the Guernsey Disability Alliance has tried to persuade small business in Guernsey that the strategy will have little financial impact on them.
It has assured employers that taking on people with disabilities can be empowering for all concerned.