Guernsey storm damage clean up 'difficult'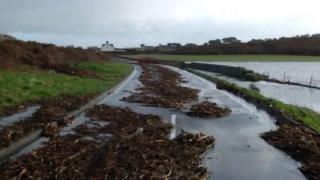 Heavy seas, strong winds and one of the highest tides of the year have caused coastal flooding and damage in Guernsey.
The west coast suffered the worst damage, with the shingle bank at L'Eree collapsing in several places forcing the closure of the coastal road.
Guernsey States said it was trying to assess the damage and clear debris before the evening's high tide.
Malcolm Cleal, from States Works, said it was a difficult operation.
"Until it's safe for vehicles to get through there's not really much we can do," he told BBC News.
"We're working our way around the coast, but the damage is certainly as bad as yesterday's.
"There's seaweed and ferns everywhere - it's going to be a major clear up."