Harwood resignation 'a loss for Guernsey' - Allan Bell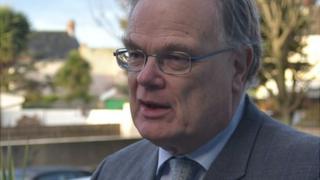 The resignation of Guernsey's chief minister is a "loss for all the crown dependencies", the Isle of Man's chief minister Allan Bell has said.
Peter Harwood resigned his position on Tuesday due to the "risk to the reputation" of the office.
It follows national media reports about his previous role as a director of the Channel Islands Stock Exchange.
Questions about the regulation of the exchange are being investigated by the Guernsey Financial Services Commission.
'Seriously detract'
Isle of Man Chief Minister Allan Bell said: "He [Peter Harwood] felt that he had to stand down because the ongoing speculation was damaging the reputation of Guernsey.
"It is an understandable position he has taken but I think it is a loss to Guernsey and also a loss to the current relationship between the crown dependencies."
Deputy Harwood said the ongoing investigation would "focus unnecessary media attention" on his position.
He said that would be to the "detriment of the reputation of that office" and "seriously detract from the vital ongoing work of the Policy Council and its sub-committees".
Guernsey's Deputy Chief Minister Jonathan Le Tocq said the Policy Council respected his decision.
He paid tribute to the work Deputy Harwood had done in the past two years and said an election to replace him was likely to be held at the March States meeting.
Until he is replaced Deputy Harwood will continue to lead meetings of the Policy Council and other committees and sub-groups of which the chief minister is the head.