Guernsey's Bathing Pools undergo repairs after storms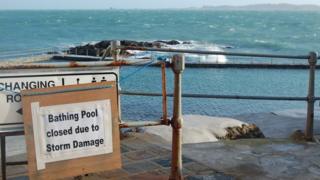 Repair work has started on Guernsey's Victorian Bathing Pools after storms forced them to be shut "indefinitely".
"Extensive damage" to the three outdoor pools had left them in "a very dangerous condition", according to the culture and leisure department.
The broken steps and handrail at the Ladies Pool will be fixed first.
The Children's, Gents and Horseshoe Pools will remain closed while further investigative work is carried out and the cost calculated.
The pools are used all year round by swimmers and were built after the loss of beachfront due to the extensive development of St Peter Port Harbour.