High tides and strong winds breach Vazon sea wall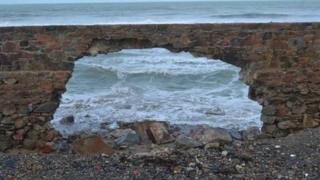 High tides and strong winds have battered Guernsey's coast line.
Strong winds and waves have punched a large hole in the centre of the Vazon sea wall and sand has drained through the hole into the bay.
Staff from States Works visited the site, opposite La Grande Mare, and knocked down what remained of the sea wall.
The team then reinforced the breach ahead of high tide.