Lyndon Trott will not stand in Guernsey chief minister election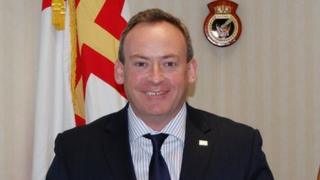 Former Guernsey chief minister Lyndon Trott has announced he will not stand for re-election.
Mr Trott, who last served in the post from 2008-12, said a sitting minister would be a better choice for the role.
Deputies Allister Langlois and Jonathan Le Tocq have put themselves forward following the resignation of Deputy Peter Harwood.
Nominations for the post are due to close at 17:00 GMT on Thursday before an election in the States on 12 March.
Deputy Harwood stood down after a Private Eye article criticised him over his former role as Channel Island Stock Exchange director.