Alderney man in tidal swim to raise seabird concerns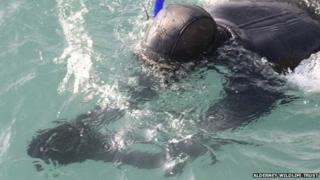 A wildlife campaigner has become the first man in 60 years to swim a three mile tidal route off Alderney.
Roland Gauvain, from the Alderney Wildlife Trust, swam from Braye Harbour to the bird sanctuary island of Burhou.
He completed the swim in one hour and 26 minutes, raising £3,000 for the trust.
Mr Gauvain said the money would help to care for seabirds struggling after the winter storms.
Hundreds of seabirds have been found washed up on Channel Islands beaches since the February storms.
Mr Gauvain said he faced the straits "notoriously strong tidal movements" which made the swim harder.
While on Burhou the team hoped to check on the puffin burrows, but only Mr Gauvain was able to get on to the island.
"We intended to get survey work done, but despite the benign conditions there still was a grand swell and so we ended up with a boat full of water when we tried to bring the boat on to the island."
He said the recent storms have had a devastating impact on the island breeding seabirds.
"I saw a lot of damage, it has a high tide mark of 40 ft higher than you would have intended.
"A lot of the puffin burrows would have been flooded or even destroyed."
Since the heavy winds and high tides in February, the Alderney Wildlife Trust has been monitoring the island's beaches daily and helping co-ordinate the Channel Island and UK bird recording and planning effort.