Guernsey chief minister candidates quizzed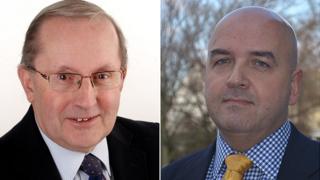 The two candidates vying to become Guernsey's chief minister will face up to an hour of questions from fellow politicians ahead of the vote later.
Deputy Allister Langlois, the Social Security Minister and Deputy Jonathan Le Tocq, the Home and Deputy Chief Minister, are the two nominees.
When the States meets at the specially called meeting, both candidates will be given five minutes to make a speech.
Questions will then be put to them for a maximum of an hour.
Deputies who want to ask a question will be chosen in a random order and will have 30 seconds to ask a question with each candidate having up to a minute to respond.
Bailiff Richard Collas has warned deputies that questions need to "relate to areas of policy included in the mandate of the Policy Council" and while he will allow "a degree of latitude", the "spirit of the condition" must be observed.
Peter Harwood resigned last month, but remains in the position until his replacement is appointed.
Live coverage of the election starts at 09:30 GMT on BBC Radio Guernsey's 1116 MW frequency.