Jonathan Le Tocq elected as Guernsey's chief minister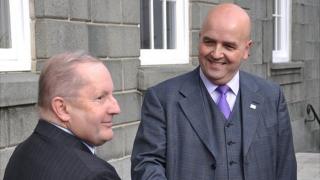 Deputy Jonathan Le Tocq has been elected as Guernsey's chief minister.
States members voted 22-20 in his favour ahead of the only other candidate Allister Langlois, the social security minister.
Deputy Le Tocq, who was the home and deputy chief minister, spoke of representing the island in an "often suspicious and hostile outside world".
Following his election, he said: "I count it as an honour and a privilege to serve my island in this way."
In his speech, he said he hoped to follow the example of his ancestor Jean who called out the militia during an invasion by French mercenaries in 1372.
Both candidates were questioned by States members for an hour before the vote took place due to a change in the election rules agreed last year.
Deputy Peter Harwood resigned as chief minister last month, but remained in the position until his replacement was elected.
Speaking of his last day in the job, he said: "Naturally I'm very disappointed, there's a lot of work that needs to be done.
"I would have liked to see some of it through, hopefully I'll still be able to have some engagement through serving on one or two committees."
Deputy Le Tocq paid tribute to deputy Harwood for the "legacy he has provided for us all to build on" and said he "hopes he will take a continued active role wherever possible".
His replacement as home minister and a deputy chief minister, which has to be one of the departmental ministers, are due to be elected later this month.