Bailiwick charities to receive £200,000 from Christmas Lottery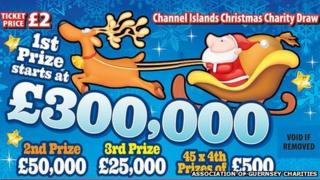 More than £200,000 from the proceeds of the Channel Islands' Christmas Lottery is to be distributed to charities in the Bailiwick of Guernsey.
Money from the lottery can be given to any charity that is a member of the Association of Guernsey Charities.
The association said it had received 53 applications for grants, requesting more than £570,000.
A record £1m was reached from ticket sales, with nearly all tickets selling out across the islands.
The annual lottery has been running since 1975 and money has been donated to charity since 1986.
After prizes are distributed, proceeds of the lottery are split between the charity associations of Jersey and Guernsey based on the proportion of ticket sales, with the division usually about 60% for Jersey and 40% for Guernsey.